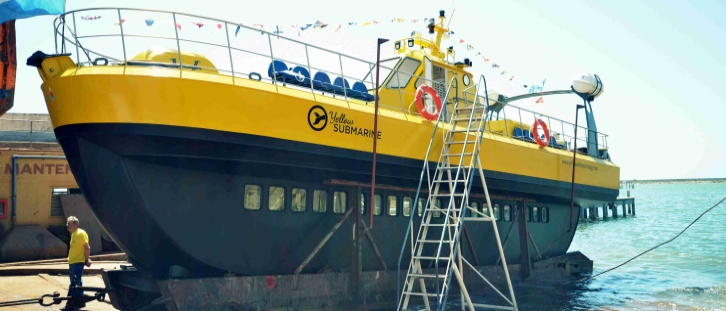 Submarine Watching
- NOT AVAILABLE - Between the months of July and October, a new alternative for this sea excursion. The sighting embarked from the semi submersible Yellow Submarine. This underwater boat will allow you to observe the whales under the water, comfortably sitting through their 40 windows.
What does the tour include?:
Navigation through the Gulf, Bilingual Guide, Security Team.
what does not include?:
Breakfast, lunch, tickets to museums or similar, tasting pays, tips and extras not specified.
Prices:
Adults : USD 85 / Childrens (from 4 to 11 years old) : USD 40
---
Company policy and cancellations
Transportation: The type of vehicle assigned remain purely and exclusively at the discretion of The Company. Baggage: Baggage and other objects are at your own risk. Documentation: Documents presentation for the contracted trip, it is in charge of the passengers. Right of permanence: The Company reserves the right of permanence for passengers that due to bad conduct, hygiene, health or other reason constitute discomfort for others members of the trip. Program variations: Turismo Puma Leg. 701 / Disp. 1325/2014 reserves the right to make alterations total or partial by fortuitous cases or force majeure. The company has the right to cancel or modify the dates of departure for tours but contemplate the minimum quota for the normal fulfillment of the trip, passengers having the right to reimbursement of the amounts paid. Cancellations: For cancellations made 3 days before the start of the trip, the 30% of total, for cancellations made with 2 days left, 50% of the total will be discounted and for cancellations within the 24 hours, The Company will not make any refund. Payments: The reservation will be confirmed once done payment of 50% of the contracted service, the passenger must complete the remaining balance (50%) at the time of starting the trip. Departure date: In case of having contracted a tour package, Turismo Puma 701 / Disp. 1325/2014 reserves the right to modify the dates, informing prior to the passengers. Knowledge: The passenger declares to know and accept the clauses and general conditions of the services when performing the reserve.